Bring your stories to life out of your phone – whether you're on the move, or sitting comfortably at home! The My KODAK MOMENTS App lets you print your photos, make greeting cards or put together personalised photobooks all from your smartphone, wherever you happen to be.
No need to upload anything to your computer – just select the photos on your phone first, place your order and then collect from your nearest store. Simple as that.
Get started by downloading the free app here

For FACEBOOK
Free your favourite photos from FACEBOOK – and those shared by your friends – by getting them printed on the new My KODAK MOMENTS App. Create photo prints, greetings cards, social prints and photobooks.
Design your creation just the way you want, with captions and layouts. Then place your order at your nearest store to collect. Easy!
Passport & ID Photos
Our friendly staff are trained produce your passport & ID photos while you wait and ensure that that they adhere to the required guidelines
Photo Restoration & Caricatures
Our team are experts in Photo Restoration and Photo Enhancement, and in converting photographs into personalized and unique works of art to create and enjoy photo gifts of the best possible quality.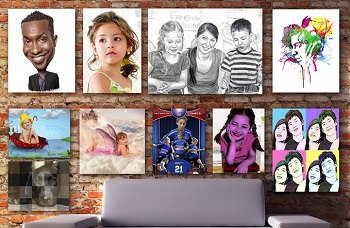 In the digital age, most photographs are relegated to the computer's memory. Why not celebrate the memory of a special moment by capturing it as a unique painting instead? Select from any of over 20 art treatments and see the difference we can make.